The spirometer MAS-1 is applied for estimate of the state of the respiratory system of man with the help of measurement and computation of all key parameters of breathing and visualization of the process of breathing. The system uses the due values by most wide-spread standards by Clement, by ECCS standards and Knudson for adults and for children Shiryaeva,Knudson, Qanjer, Zapletal (from 4 up to 90 years old man) , that allows to form automatically preliminary expert conclusion with the possibility of correction, with the direction of a degree and type of abnormalities of the respiratory function, and also to size up the effect of functional tests and effects of the treatment of patients. It can be used for diagnostics study of adults and children taking into account their age peculiarities.
Fields of application



 in departments of functional diagnostics of out-patient and stationary medical institutions; 


 in medical research institutes; 


 in family doctor's consulting room and clinics of family medicine; 


 in sports, aerospace and military medicine; 


 in medical service of firms for carrying out preliminary and periodic medical examinations.
Key functions of the system

- Measurement and visualization in real time mode both quiet (spirometry), and forced (pneumotachometry) breathing, measurements of maximal breathing capacity;
- Simultaneous review of several curves of forced expiration and self-acting (or hand-held) choice of best test;
- Construction of spirometry graphs (volume-time) and pneumotachometries (flow-volume, volume-time) in real time, self-acting and hand-held dimensional scaling of breathing curves;
- Calculation of due values by selected standards and comparing them with the measured values, giving out the expert preliminary conclusion and the total protocol of patient's examination in tables and diagrams on both the monitor, and the printer;
- The possibility to analysis of dynamics parameters of ventilation during functional tests (bronchial dilatation test, bronchial provocation test [up 8], allergenic, etc.), and also assessment of dynamics parameters of ventilation patient after treatment (comparison mode);
- Storing of all patient's examination data (respiration curves and parameters) in the database, possibility of fast search, review and comparison of the results of either examinations


Parameters of pulmonary ventilating function in "MAS-1K" system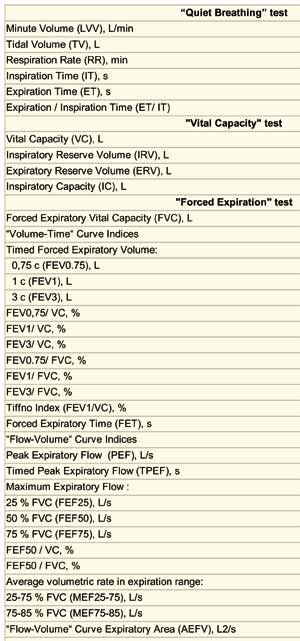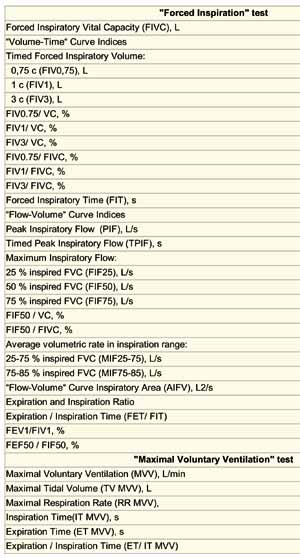 Absence of power supply (the recorder powers directly from the USB-port of the computer). 


Lightness, compactness, portability - possibility of operation with notebook. 


The hygienic method of measurement due to usage of disposable mouthpieces.


Application of modern materials and technologies.


Automatic control of quality ATS/ERS-2005


2 years warranty.
Performance specifications

The spirometer MAS-1 works on the base of standard IBM PC compatible personal computer under the control of Windows 2000, XP operating system. For connection of recorder to the computer, the USB-port is used.